VISION
Maximizing results with the Experience Value*
We exceed when maximizing results with value of experience in this digital era.
Our solutions are designed to appeal people's emotions and sensibilities regardless of the media.
We provide solutions to optimized results by acquire new customers and activate existing customers.
For that, we make full use of our skills in planning and execution with the ability to create attractive contents and revitalize promotion platforms based on the value of experience.
Experience Value= Implied to emotional, sensational and rational values that appeal to customer's experience.
Experience Design Model by TOW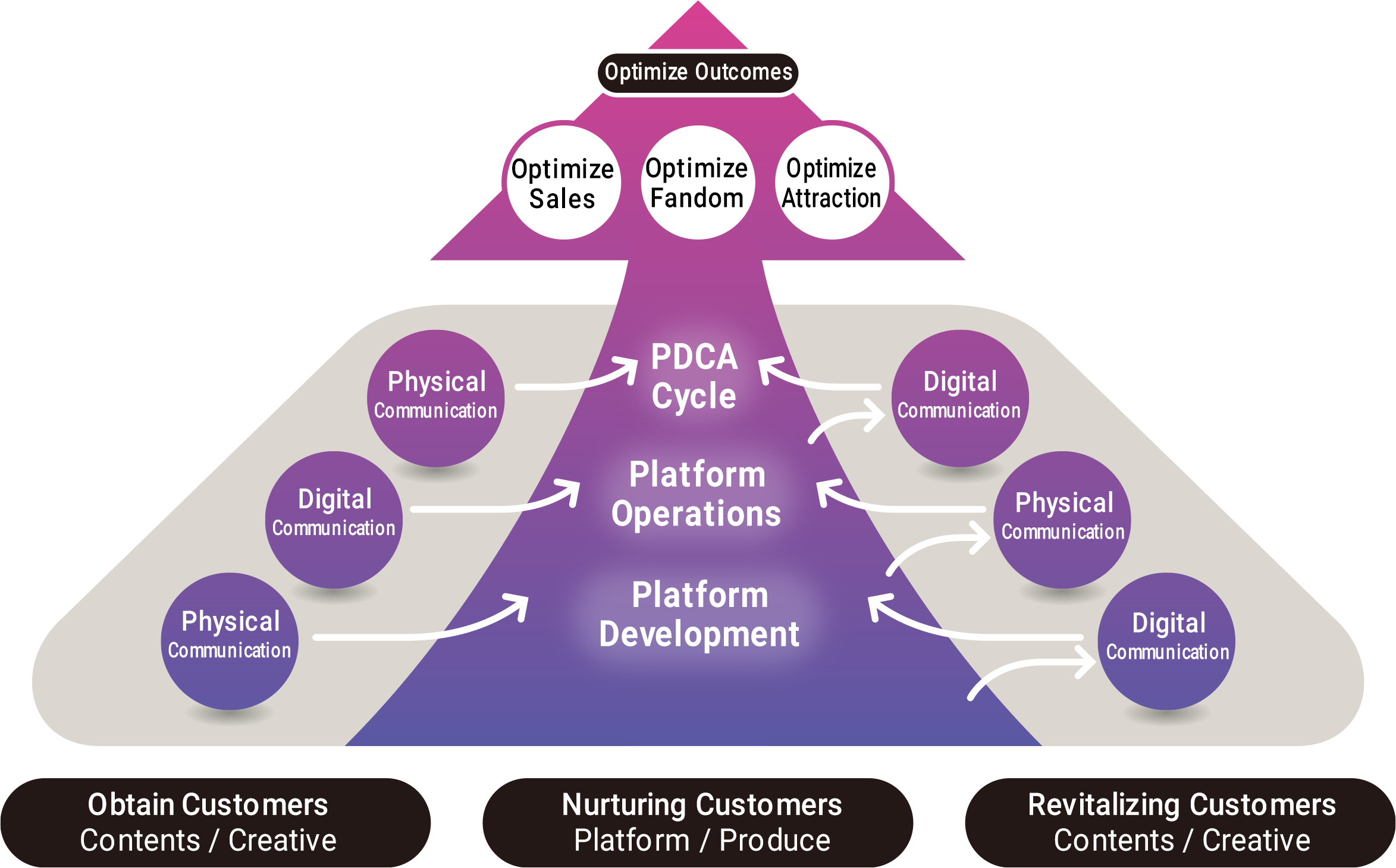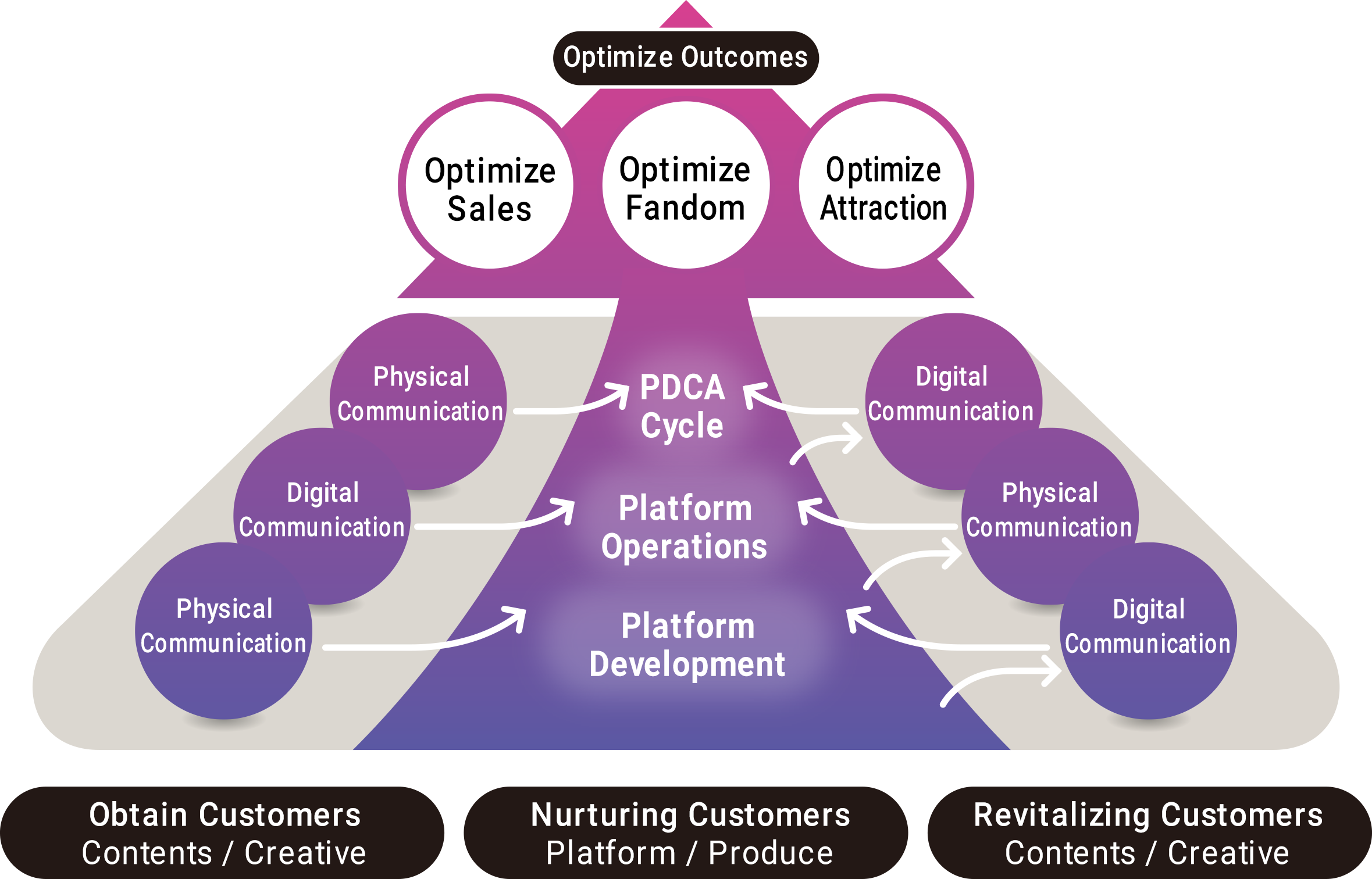 Strength

Designing experience
Pursuing maximization of results by making full use of "creative contents" and "producing platforms" with experience value as the core, repeating optimal lead wire design and continuous effect verification to achieve the set KPI

Planning skills
Always seeking the optimal solution from the marketing and creative aspects. High-quality promotions are planned while comparing the issues that companies and brands with the potential and actual needs of the world and targets.

Execution skills
As an experienced production company that has worked to create various outputs with professionals in different fields, we have been taking in action to overcome uphill struggles to success.

Teamwork
We organize a team with professionals inside and outside the company in all directions and demonstrates partnerships with clients to achieve results.
Workflow
01
Research
We analyze and investigate from various angles such as product trends, user needs, product /brand issues, market characteristics and target audience.
02
Strategy
Determine the direction of communication plans.
We will design effective KPIs and scenarios from the point when the targets encounter the product /brand to when they decides to purchase.
03
Planning
The promotion strategy was planned to to make the action. We will provide an optimal solutions with media tools including but not limited to SP, WEB, PR, display ads , promotion via online /social media.
04
Feasibility
Negotiate with various media, contents, etc. according to the promotion plan.
We will create an environment to efficiently attract customers and provide content.
05
Produce/Creative
Create solutions based on the formulated promotion plan. We will produce attractive output, looking at the big picture to get maximum consumer satisfaction.
06
PDCA
Examine if the formulated concept, scenario, and output functioned effectively and led to the achievement of KPIs. We will analyze these points for the use in future improvement.
COMPANY
Company name
TOW CO.,LTD
Established
July 1976
Capital
948.990 million yen (as of June 2023)
Sales
11.7 billion yen (as of June 2023)
Head office
〒105-0001
Hulic Kamiyacho Bldg. 3F, 4-3-13 Toranomon,
Minato-ku, Tokyo 105-0001 Japan
Officers, etc.

President:Muratsu Kenichi
Managing Director/Executive Officer:Ichikawa Kimihiko
Director/Executive Officer:Amemiya Junpe
Director/Executive Officer:Masumori Takehito
Executive Officer:Takeshita Hiroki
Executive Officer:Morii Keisuke
Executive Officer:Kawamura Goichi
Executive Officer:Ebine shunichi
External Director:Yanagisawa Daisuke
External Director, Audit and Supervisory Committee Member:Hagiwara Shintaro
External Director, Audit and Supervisory Committee Member:Imanishi Yuka
External Director, Audit and Supervisory Committee Member:Tomosada Yoshikawa
Chief Digital Officer:Shinya Kanamori

No. of employees
233(as of June 2023)
If you have any questions about TOW or inquiries about new projects, please contact us from the following.
For any questions and inquiry about TOW,
please call us or use the form below
Inquiry about new project
phone 03-5777-0125 /
account service division
Other questions and inquiries
phone:03-5777-1888 /
administration office